You are here:  

Three Potters Symposium: Tradition and Place, Past and Present
Three Potters Symposium: Tradition and Place, Past and Present
Each year, the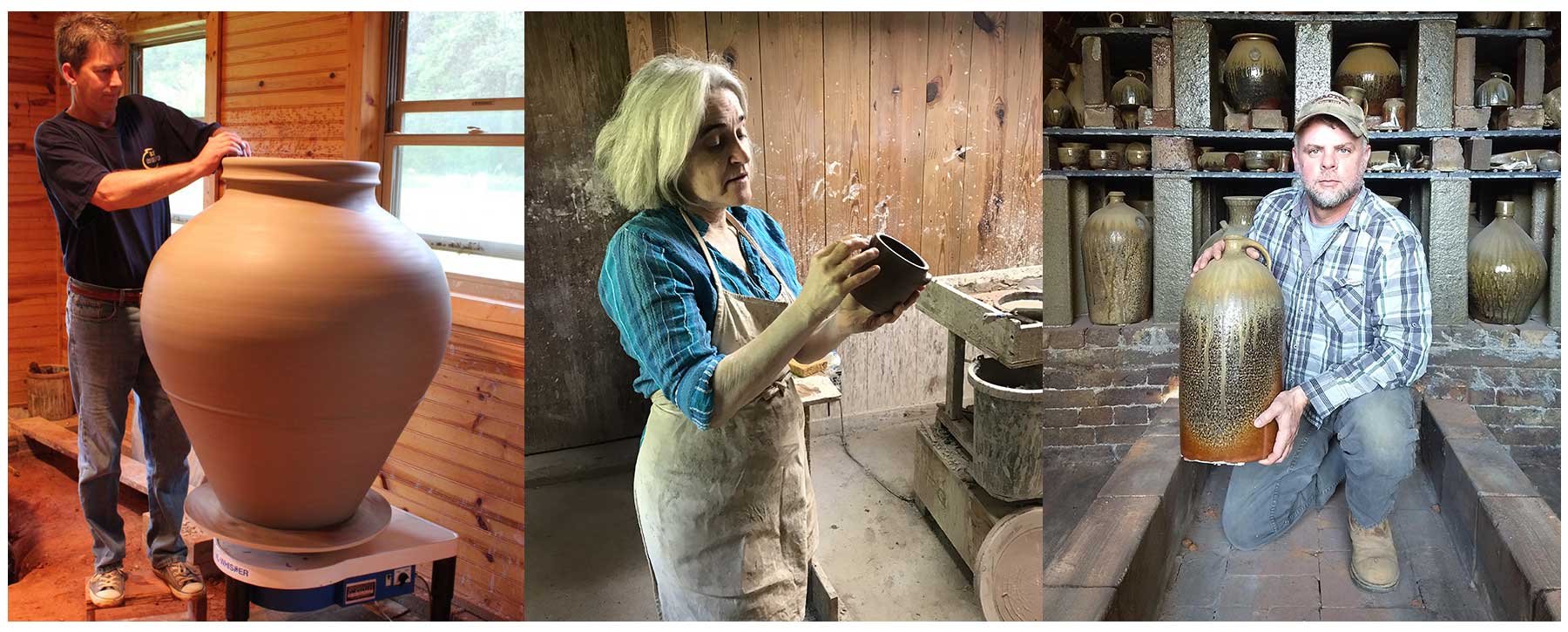 Three Potters Symposium brings three of the nation's best ceramics artists together for a weekend of demonstrations, discussion, and exhibition at The Bascom: A Center for the Visual Arts in Highlands, NC. In its twelfth year, the 2022 symposium "Tradition and Culture, Past and Present" highlights the pottery and clay traditions of Seagrove, NC, featuring potters David Stuempfle, Pam Owens, and Chad Brown. The multi-day program begins, Friday, July 29 with a series of public events including: an artist talk, opening reception, and a show/sale of the artists' work in The Bascom's Greehey Atrium Gallery. The symposium, a ticketed event, will be held on Saturday, July 30.
The Three Potters Symposium has become a popular attraction in The Bascom's calendar of events. Throughout its history, the symposium has attracted clay artists from around the state of NC, the southeast region, and the country. Past events have featured celebrated artists such as Ben Owen III, Michael Sherrill, Cynthia Bringle, Christina Cordova, and Jim Connell, to name a few. This year's symposium promises, yet again, to bring a cross-section of the state's most influential clay artists to The Bascom. In a format designed to encourage questions and organic conversation with the audience and each other, three artists will demonstrate side-by-side while sharing their stories, inspirations, and techniques. Suitable for potters of any skill level, participants will walk away with innovative ideas to improve their work and a deep appreciation for the craft.
Event Information
| | |
| --- | --- |
| Event Date | July 30, 2022 10:00 am |
| Event End Date | July 30, 2022 4:00 am |
| Capacity | 40 |
| Available place | 36 |
| Cut off date | July 29, 2022 11:55 pm |
| Cancel Registration Before Date | June 19, 2021 10:00 am |
| Individual Price | $60 (Members); $110 (Non-Members) |
| Instructor | David Stuempfle, Pam Owens, and Chad Brown |
| Number Hours | 5 |
| Location | Dave Drake Barn |
| Categories | Classes & Workshops, Lectures & Seminars, Special Events, Adult, Ceramics, All Skill Levels Welcome |
Gallery
Sign Up for Our Newsletter

Visit: 323 Franklin Road
Highlands, NC 28741 (Map It)
Call: 828-526-4949 (Main)
828-787-2892 (Ceramics Studio)



Funded in part by a grant from South Arts
in partnership with the National Endowment for the Arts.